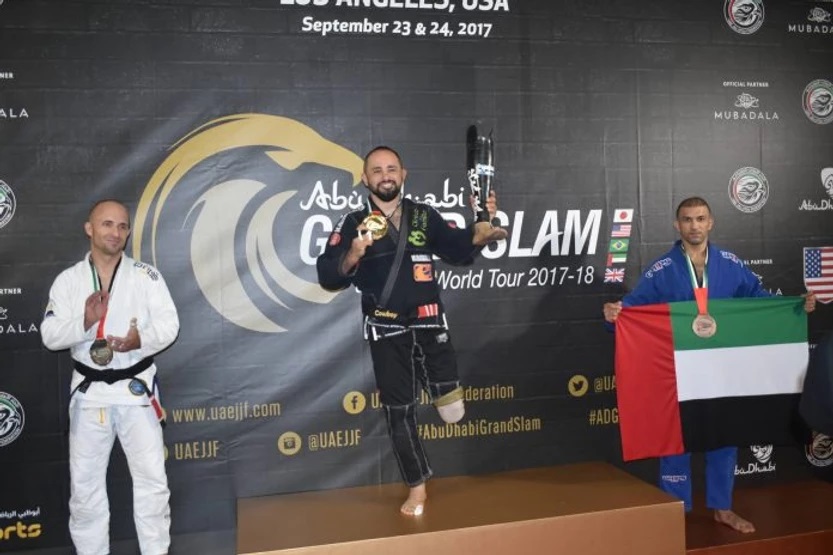 Los Angeles, 24th September, 2017: Abu Dhabi Grand Slam Jiu-Jitsu World Tour Los Angeles second day saw some exceptional energetic fights among the Para Jiu-Jitsu athletes and the white, blue, purple belts in different weight categories.
Elcirley Silva, the man behind the Para-Athletes movement said "I lost my leg 3 years ago, my professor Mario, told me one day, let's go to Abu Dhabi, it is the best place for Jiu-Jitsu, they are taking the level of the sport up and they can help us build our own division. It was really difficult to arrange the money but we made it to the World Pro in April.
"We did the first world championship for the Para Jiu-Jitsu Athletes in Abu Dhabi in April 2017 at the World Pro, we were there with 56 Para-Athletes and His Highness Sheikh Mohammed bin Zayed told me that he will make sure to organize Para-Jiu-Jitsu competitions in Brazil. He then told me that, from now on – there will be a separate category for the Para-Jiu-Jitsu Athletes in every Grand Slam.
"This really made me very happy, this was my dream, to have our own category, because we have so many veterans, and people who were born with disability. Jiu-Jitsu saved the life of my professor, it saved my life and they save the life of families. Because when someone with disability comes to a competition like the Abu Dhabi Grand Slam and the UAEJJF treats them like a hero, and compete in front of the fans, win a medal and feature in a top Jiu-Jitsu magazine – this is a moment of pride"
"His Highness Sheikh Mohammad is changing the history of our sport, forever. UAEJJF has done this for us, we are all one."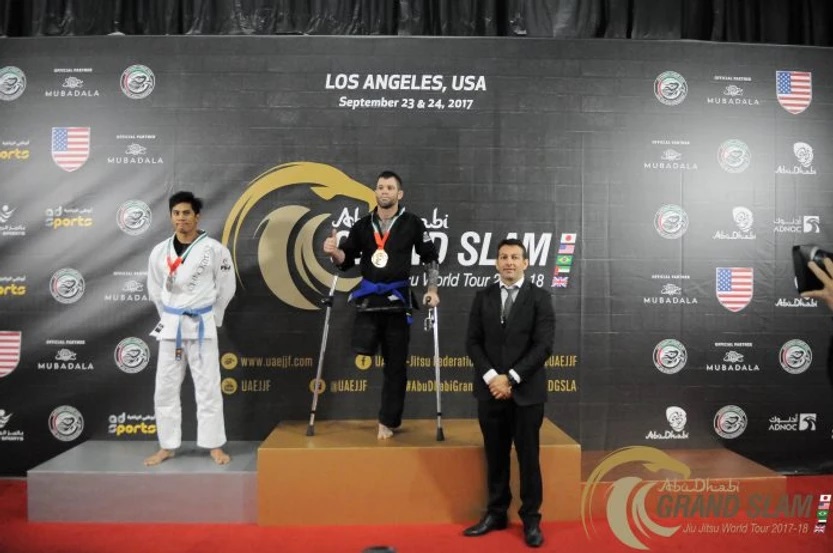 Once again the Los Angeles Convention Center was at full capacity with 1,134 energetic fans in attendance and the viewers across Abu Dhabi Sports TV and the 18 TV partners from around the world witnessed some fast paced and tactical matches, especially in the Para Jiu-Jitsu categories.
Rustin Hughes and Jonatan Rodriguez was one of the most thrilling fights of the day in the Para-Jiu-Jitsu Class 2 category. The fight was a brave effort by both players who displayed proper technical and tactical skills of the gentle art.
"I would like to thank the UAE Jiu-Jitsu and His Highness Sheikh Mohammed for his efforts to build this new category of the Para-Athletes, we are honored and very proud to compete at the Abu Dhabi Grand Slam. I would also like to thank Elcirley Silva, who really did an amazing job to set this up with the UAEJJF. Very grateful to Abu Dhabi." said Jonatan Rodriguez
UAE players won a total of 33 medals in different weight and belt categories.
The third leg of the Abu Dhabi Grand Slam Jiu-Jitsu World Tour Season 3 [2017-18] heads to Rio De Janeiro [Brazil] on 10th, 11th and 12th of November.
Para Jiu-Jitsu Winners
Class 13: Jorge Nakamura
Class 13: Wilson Pinto
Class 13: Nick Hyndman
Class 2: Rustin Hughes
Class 1: Ronald Mann
Class 1: Langston Stevenson
Class 2: Elcirley Silva
Class 13: Nicholas Palmer
Class 10: Rafael Rodrigues